Golestan Tourist Attractions


Golestan National Park

"

Golestan National Park

" known as Golestan Jungle, is a National Park in Golestan Province and one of the most significant UNESCO Biosphere Reserves in Iran and middle east. The park is located in the eastern Alborz (Elburs) Mountains range and the western edge of the Kopet Dag range. It comprises 91,890 hectars and elevations in the park range from 1,000–1,400 metres (3,300–4,600 ft) above sea level. Golestan National Park has a variety of habitats, such as temperate broad leaf forests, grass lands, shrub lands and rocky areas. The diverse flora includes stands of white Eremurus kopetdaghensis, Iris acutiloba sub sp. lineo lataand Iris kopetdagensis. The fauna is very rich and consists of Persian leopards (Panthera pardus ciscaucasica), Indian wolves (Canis lupus pallipes), wild boars (Sus scrofa), maral deer (Cervus elaphus maral), roe deer (Capreolus capreolus), urial (Ovis ammon arkali), wild goats (Capra aegagrus) and goitered gazelles (Gazella subgutturosa).
Qarn Abad village pond, Golestan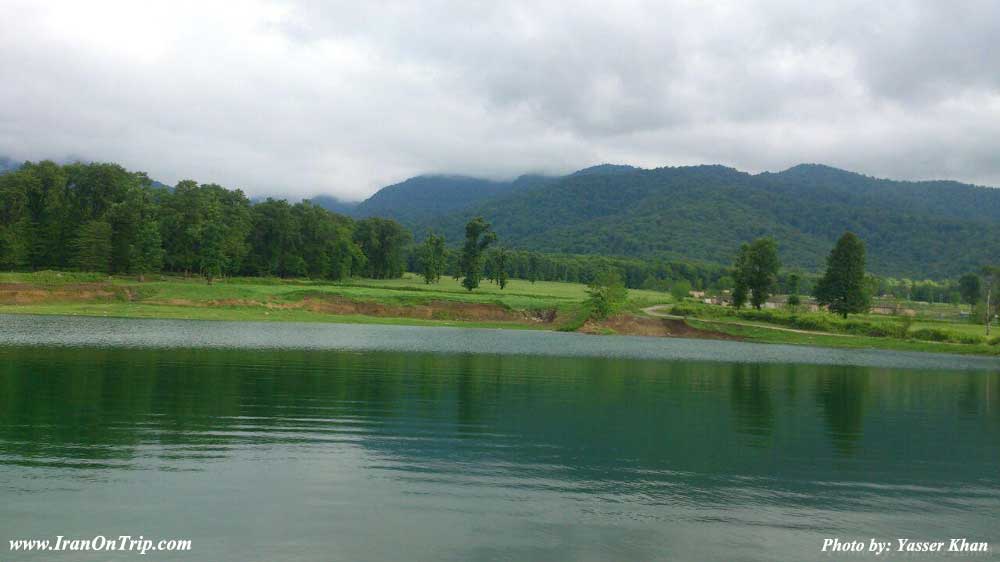 Shafi Abad village pond Golestan





Shafi Abad village

is a foothill village in Fenderesk county, Golestan province. It is famous for its strawberry fields and a Strawberry Festival is held near the pond of the village on May annually. Lush rainforests as well as springs and waterfalls (O_tereh and O_gerdgerd) are other tourist attractions of this beautiful village.
O_tereh and O_gerdgerd waterfalls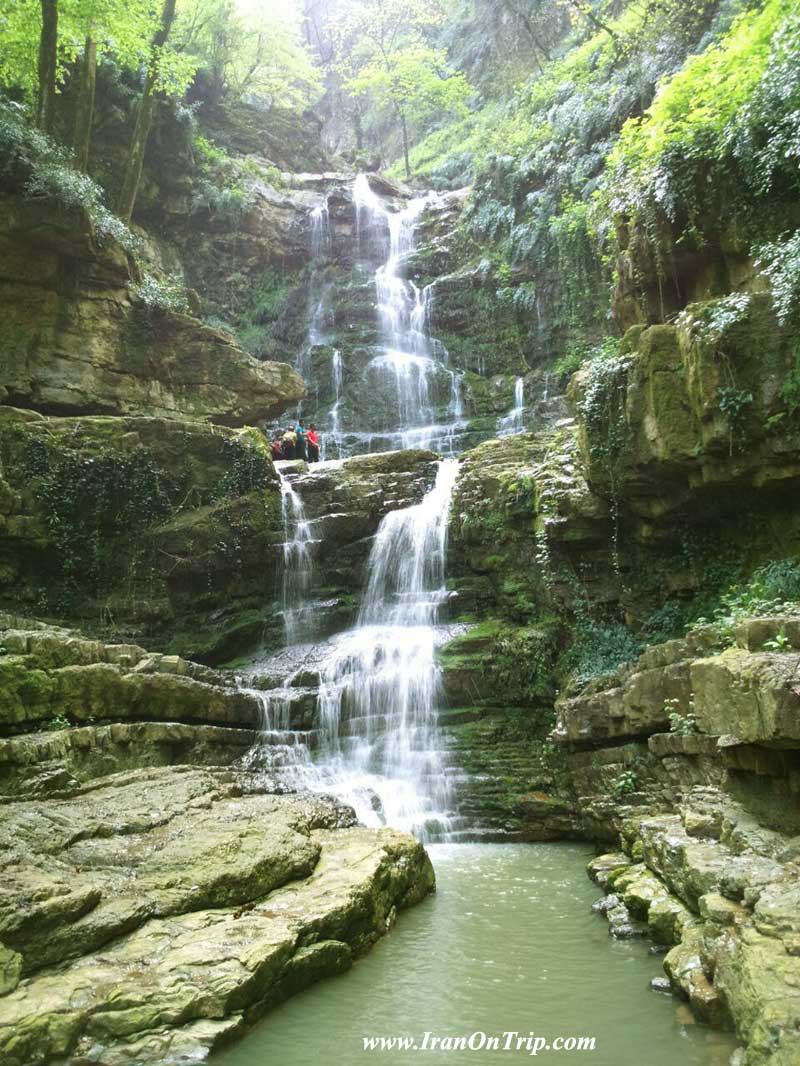 Deraz_now village





Deraz_now

is a rural village at a distance of 40 km from Kordkoy city, Golestan province. Because this village is located in the Alborz Mountains , the Gulf of Gorgan's amazing landscape as well as more than 11 cities and hundreds of villages are visible from the village. Two natural caves called the "treasure house" and "warehouse Hasan Khan" as well as numerous waterfalls and springs nearby can be regarded as unique attractions of the village.
Jahan nama village



The village is located in the south of the city of Kordkoy. By providing tourist facilities, this umique area, due to its beautiful landscape and overlooking a vast area, including Kordkoy, Gorgan, Gorgan Bay, Miankaleh peninsula, Bandar-e-torkaman and other villages, beautiful nature and perfect weather, has the potential to be one of the most important tourist centers of the country.

This old highland village is also located within Jahan Nama protected area which has an area over 38,403 hectares and its historic monuments, geographic and climatic conditions as well as existence of mountains, rivers, springs and a variety of wildlife, rare birds and plant species increase the attractions of the region.

Shirabad waterfall



Shirabad Waterefall

is situated in a forested area in the Alborz mountain range, at the village of Shirabad in the Fenderesk District of Golestan Province in north of Iran. It is in the form of a stairway cascade and includes 12 large and small waterfalls. Its largest waterfall is 25 metres high and its plunge pool is 40 to 80 metres (130 to 260 ft) deep.There are also several caves nearby which are home to the critically endangered Gorgan Salamander species.



Kaboud-val waterfall





Kaboud-val waterfall

( Persian: آبشار کبودوال ) also transliterated Kaboud vâl, is a waterfall in Iran's Golestan province. It is near the Aliabad-e katul city about 3 kilometers to the south.
Kaboud-val is the largest full-moss waterfall in Iran and is one of the promenade places in Golestan province. Its height is about six meters and its water is cool and potable.

Sulukli (Zav) lagoon



Sulukli lagoon

that is the largest wetland in the mountains of Iran is located in Galikesh county, Golestan province at an altitude of 1100 meters above sea level. "Suluk" in Turkmen language means "leeches" and "Li" means "place", so it literally means "leech habitat". This lake (also called Zav) has a maximum depth of one meter and 4 hectares area and is one of the amazing and pristine places in the country.

Olang road



Olang road

is a mountain road which connects Ramian to Sharhoud and it is also the access way to a number of mountain villages in the county especially Paqaleh village that is one the most attractive ones in Golestan provine.
Gol-e-Ramian (Ramian pool)



Gol-e-Ramian,

called "dark pool" in Safavid and Qajar texts, is the deepest cold water spring in Iran (about 80 meters) and the second in the world after its counterpart in United States. (Göl) in Turkish means wetland and lake and generally means a dense accumulation of water. This natural pools covers a circular area of 7200 square meter and due to its depth, its color changes from dark green to turquoise throughout the year.



Khaled Nabi Cemetery



Cemetery of the Prophet Khaled (Khaled Nabi) is a cemetery in Golestan province near the border with Turkmenistan, roughly 90 km northeast ofGonbad-e Kavous city, in the Gokcheh Dagh hills of Turkmen Sahra.

Khaled Nabi according to oral tradition of the Yomut Turkomans was a pre-Islamic prophet and his mausoleum is visited by them for pilgrimage together with the neighbouring one of Ata Chofun ("Father Shepherd"), his son-in-law. This ancient cemetery is also famous for its wonderful graveyard in which there are a number of tombstones in the form of male and female sex organs . Although it has been registered as a national monument, due to paying low attention to this valuable collection, the number of its tombstones, unfortunately, is mysteriously vanihing yearly.
Sargol





Sargol

recreation area and its lush surroundings and forests with rich flora and fauna species is a natural amazing tourist site located around Paqaleh village
Padoldol plains of anemones


Padoldol located in Galikesh county, Golestan province, is a highland village that attrtacts a large number of tourists and travelers in differentt seasons of the year, especially by its beautiful pristine plains of anemones in April and May. Kiaram Cave which is the oldest human settlement in North of Iran is also situated in this village.
Qaleh Maran (Maran castle) and Paqaleh village in a shot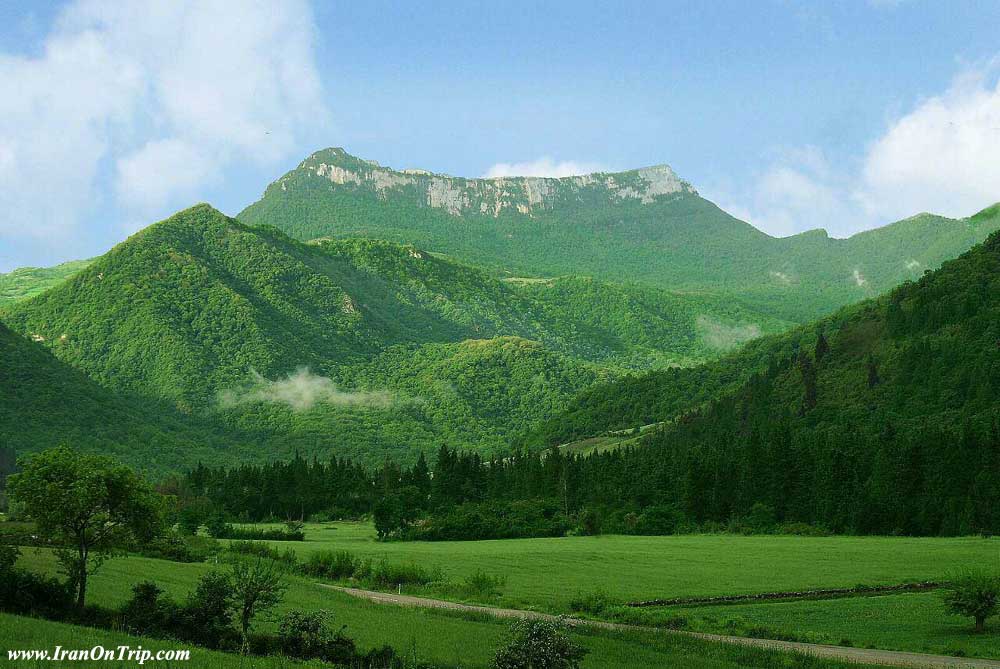 One of the amazing attractions of Paqaleh village is Qaleh Maran (Muran), a natural and historical fortress with a height of 2400 meters which has been used as a mountain capital during Parthian dynasty and also includes the remaining parts of Tamisheh ancient city.

Khulindareh village



Khulindareh

is one of the most beautiful villages in Aliabad county, Golestan province. Under the influence of cold climate, this mountain village is mostly used as a resort village in spring and summer and few people who live permanently are farmers or raise animals. Due to its natural conditions, this pristine highland village has the potential to attract a wide range of visitors and satisfy the needs and interests of tourists with different tastes.
Baq_e_golbon village pond Golestan

Qabus tower(Gonbad_e-Qabus tower)​



Qabus tower

is a monument in Gonbad-e Qabus, Golestan province and a UNESCO World Heritage Site since 2012.The Tower which is located in the central part of the city reaches 72 metres (including the height of the platform).This baked-brick-built tower is an enormous decagon building with a conic roof. The interiors contain the earliest examples of Muqarnas decorative styles. The decagon with its 3 meter-thick wall, divided into 10 sides, has a diameter of 17 m. The Tower was built on such a scientific and architectural design that at the front of the Tower, at an external circle, one can hear one's echo.The tower was built in 1006 AD on the orders of the Ziyarid Amir Shams ol-Ma'āli Qabus ibn Wushmgir. It is located 3 km north of the ancient city of Jorjan, from where the Ziyarid dynasty ruled.

Farsian village


Farsian village is located in Golestan province and has a distance of 35 Km from the city of Azadshar. Due to its valuable traditional texture and its similarities in terms of housing structure to Masuleh stepped village, Farsian has become one of the country's picturesque villages and attracts a large number of tourists from different parts of the country.

Khak_e_pirzan Village



Khak_e_pirzan village

is one of the suburban villages of the city of Aliabad in lush green Golestan province. People in this mountain village mosly work in the farms and raise animals. Having an amazing magnificent landscape of Qaleh maran and its beautiful green surroundings are of natural attractios of this highland village.
Amir Latifi's House (Gorgan handicrafts museum)



Gorgan Handicrafts museum

is situated in Amir Latifi's House in the city center of Gorgan and is the first handicrafts museum of Golestan province. Amir Latifi's House, built in late Qajar dynasty by Mehdi Khan Malek as a residential house, is located in the old conservative area of Gorgan and in Nalbandan district. Due to the co-existence of various tribes and specific geographical position and natural conditions, the Golestan province has been long considered as one of the county's handicrafts poles. So this museum has been set up with the aim of perservation, maintenance, and introduction of these arts. The museum not only aims at familiarizing people with the local handicrafts but is also trying to develop effective educational and cultural messages in society and prompt prosperity and revival of these arts among those who are interested.

Bagheri's House



Bagheri set

, built in the early Pahlavi period in Sarcheshmeh parish in Gorgan, Golestan province, has been registered as one of the Iran national monuments on 16 Mehr 1379 with registration number 2803.Bagheri Home with a total area of 1950 square meters is located in the historical context of Gorgan and is a valuable example of vernacular_residential architecture in the city. Among the remaining historic homes in the city, Bagheri Home is one of the largest and best preserved examples.
Birdwatching, or birding



Birdwatching, or birding

, is one of the tourist attractions of northern Iran and can be done in the lagoons and lakes of Golestan province including Ashuradeh peninsula, Gorgan bay as well as Almagol, Alagol and Ajigol wetlands..It is a form of wildlife observation in which the observation of birds is a recreational activity. It can be done with the naked eye, through a visual enhancement device like binoculars and telescops, or by listening for bird sounds.
The avifauna of Iran includes a total of 527 species, which 2 are endemic, 3 have been introduced by humans, and 14 are rare or accidental. 1 species listed is extirpated in Iran and is not included in the species count. 19 species are globally threatened.
The Great Wall of Gorgan, 1000 Years Older Than The Great Wall of China

Believed to have been built during the Parthian Empire (247 BCE–224 CE) and restored during the Sassanid era (3rd to 7th century AD), the Great Wall Of Gorgon is an incredible and sophisticated defensive construction located in north-eastern Iran, with about 30 military forts, an aqueduct, and water channels that go along the route. It is commonly known as "the Red Snake" because of the construction materials used, red colored bricks.

Archaeologists believe that it is longer than Hadrian's Wall and the Antonine Wall put together. This incredible fortification begins at the Caspian coast, circles north of Gonbade Kavous, continues towards the northeast, and disappears in the Pishkamar Mountains. It is also known as the Great Wall of Gorgan, and in the past this construction was 195 km long and 6-10 m wide.
Paqaleh village





Paqaleh

Historic and tourist village is located in the northern province of Iran, Golestan. Village altitude is 1,400 meters above sea level and influenced by mountainous climate it has cold winters and temperate summers. Paghaleh entertainment venues include Jameh Shuran recreation area and its lush natural surroundings, Sargol Forest and Fountains, and Pashmaki Waterfalls. Of amazing historical_natural attractions of the village, we can point to the remaining parts of Tamisheh Ancient City and Qaleh Maran (Muran) natural and historical fortress with a height of 2400 meters. Due to its numerous natural attractions and also the existence of Qaleh Maran, It can be claimed that Paqaleh is on the most attractive villages in north of country from the view point of visitors and travelers.

Anemones plain, padoldol village, Galikesh of Golestan
Yasser Khan Tourist House



Subjects and Photos by Yasser Khan from Golestan Iran
and
In order to visit the tourist Historical and Natural Attractions Places of Golestan
or

In order to visit the tourist village of

Yasser Khan


Contact us by the following address:




E-mail Address:




tourleader@iranontrip.com
.....
.....