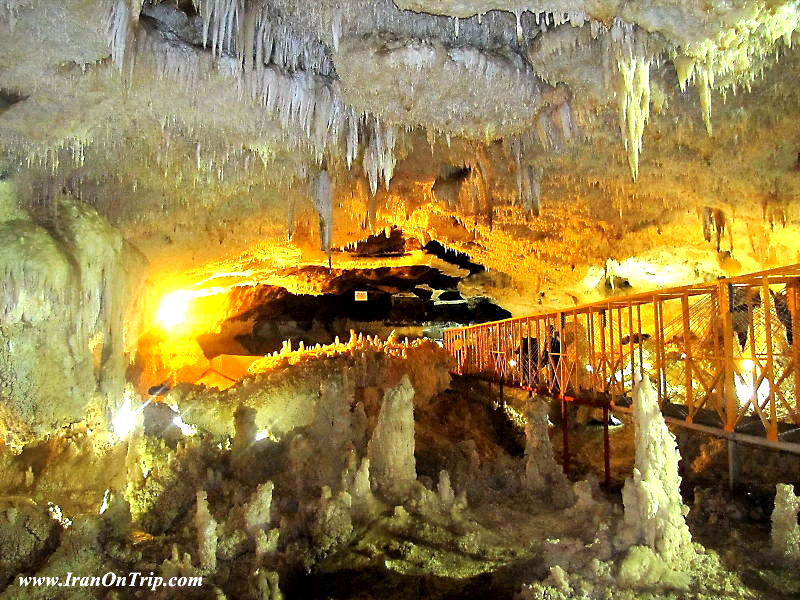 Kataleh Khor Cave

, one of the most beautiful in the world, is located 165 km southwest of Zanjan. The entrance to the cave is situated on the southern slopes of the 2,000-meter high Saghizloo Mountain.

The cave has flat walls with high ceiling and archeologists estimate the age of the cave at 30 million years. The entrance to Kataleh Khor resembles a crevice at the beginning and culminates in a triangular arch. Archeologists have made the entrance bigger and it currently stands at 1.5 meter high.

The first labyrinth is 400 meters from the entrance of the cave. It is expansive and has a high ceiling.
After the labyrinth, the gallery, channels and passages have taken shape gradually becoming larger or smaller. The area of the labyrinth is 200-300 square meters. Chains of galleries are separated from each other. Some of them are open ended while others have narrow strip linking to other passages or labyrinths.
Some of the strips have yet not been paved while others remain undiscovered. The floor of the labyrinths and channels are uneven and have formed through the ages with the dissolution of stones and shaping of new waterways.
Sometimes the waterways are deep and wide in the labyrinths and passages and there are crystallized stalactites which are beautiful and have taken shape from top to the bottom. They are spectacular.
Those who have been through the cave say that the visibility inside the cave extends to 700 meters. Some potteries dating back to 2000 BC have been found in the cave.
The second type of potteries obtained from the cave is reddish to brown in color. They can be compared with those belonging to the third century AD. The third type of potteries obtained from the cave is modern and are of no historical value. At the end of one of channels of the first floor, there is a skeleton of four-legged animal which has turned into "Calcite" in the form of monster.
In 1951, a veteran mountaineer from Zanjan, Asadollah Jamali discovered the mysterious cave and a team visited it the following year.
Since 1993, structure have been constructed in the vicinity of the cave to host visitors. Special lights and projectors have been installed to help visitors to get a glimpse of the unknown world inside the cave.
Kataleh Khor Cave, Zanjan Province in Iran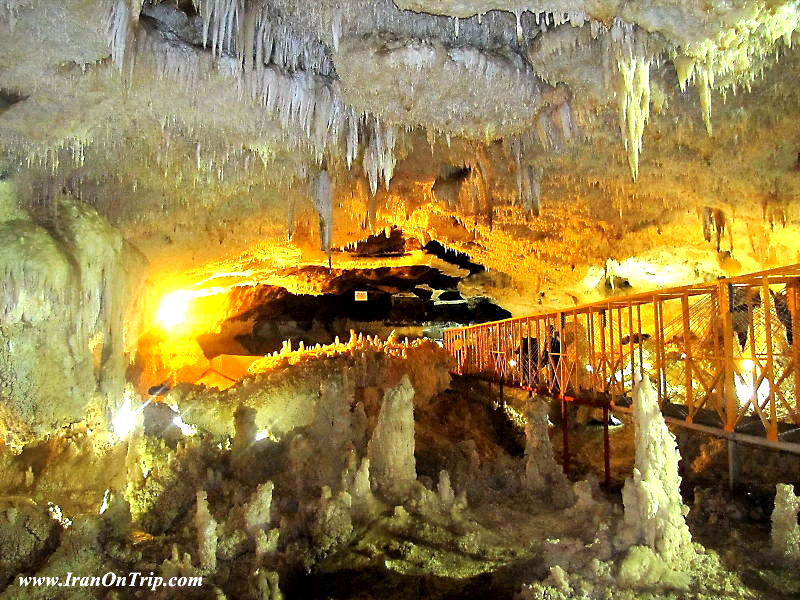 .....
.....
.....